AEM 368 is an introduction to aircraft dynamics including performance and stability and control. Dr. O'Neill taught this course in the Spring of 2017.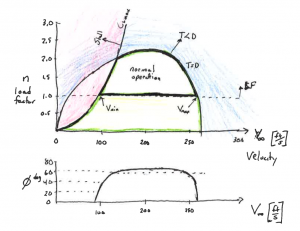 Example Lectures:
Required Books:
Flight Stability and Automatic Control, R. Nelson, McGraw-Hill, 2nd ed, 1998.
Aircraft Performance and Design, John Anderson, McGraw-Hill, 1999.
Goals:
By the end of the course, students should be able to:
Understand basic aircraft performance and stability and control (S&C) terminology
Estimate aircraft performance in steady and accelerated flight mission phases
Size S&C surfaces of an aircraft
Demonstrate a physical and mathematical understanding of aircraft flight modes
Topics:
We will cover S&C and performance topics in the textbooks. Selected topics and sources supplement the text.
Aircraft Nomenclature, Atmosphere, Instruments
Static stability and control (FSAC, Chap 1)
Aircraft equations of motion (FSAC, Chap 2)
Longitudinal motion (FSAC, Chap 3)
Lateral motion (FSAC, Chap 4)
Steady Flight (APD, Chap 5)
Accelerated Flight (APD, Chap 6)
Aircraft Performance and Control Projects