Today, we manipulate bits to resurrect a hobbled 15 year old GPS receiver. In the process, I learned about WAAS and s-records to successfully update a client's  Magellan Sportrak GPS unit.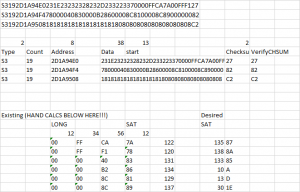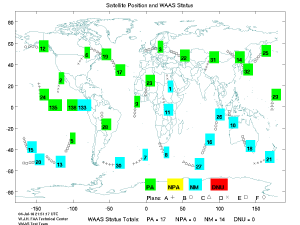 GPS and WAAS
The first part of this project requires an understanding of the global positioning system (GPS) and the Earth's atmosphere.
http://www.nstb.tc.faa.gov/RTData_WaasSatelliteData.htm
https://en.wikipedia.org/wiki/Wide_Area_Augmentation_System
Magellan GPS

The Magellan GPS receiver used older WAAS data. Specifically, INMARSAT 3-F2 (aka. PRN 120) and INMARSAT 3-F4 (aka. PRN 122 AOR-W) were hard coded into the GPS unit. These ceased WAAS service and were not replicated.
You can verify which WAAS satellites are being used by entering the secret [menu][left][right][left][right] 03 menu.
S-Records
Directly updating the GPS firmware is required.
https://en.wikipedia.org/wiki/SREC_(file_format)
I created an Excel document to assist the firmware modification process: STPS-v1
A 7z compressed update file for only the Magellan SportTrak is available at: spor534-WAASco
Client's Response
The client responded with the following
You did it!!  Your update works just fine.  SporTrak now shows WAAS when moving and WAAS AVERAGING when stopped.  I misquoted the # of satellites it is capable of receiving:  the screen shows space for 12 and I got 11 at one time this AM!!   Apparently this version does not show EPE except when it cannot view a WAAS satellite.  But I can tell from the displayed elevation that the precision is greatly improved.